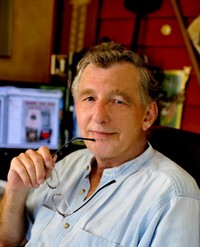 Born the first of three children to Charles and Lydia Gibbons in 1946 in Wilmington, Delaware, Bill's young family moved back to their homeland of Maryland's lower Eastern Shore, part of the Delmarva Peninsula, shortly after his birth. There, he attended school and worked on the family farm in a community of farmers from whom he gained much of the knowledge of farm life that would show up in his writing decades later.
Following graduation from Wicomico Senior High School, Bill enlisted for four years in the U.S. Air Force, serving in Texas, Mississippi, Japan and Washington, D.C. Upon completion of military service, he attended University of Delaware while working full-time as a laboratory technician and later as a computer programmer for a large, international chemical company in Wilmington, DE. While attending college, he augmented his G.I. Bill tuition benefits with sales of his art, e.g. oils, pastels, and ink.
He was transferred to Atlanta, GA and Tampa, FL, working in industrial chemical sales, and eventually back to Wilmington, DE. Taking early retirement from that company, Bill moved back to his childhood home of Salisbury, MD and entered the real estate sales, home improvement contracting and real estate investment fields. While involved in real estate sales, he was a contributing columnist in the local Salisbury newspaper, writing about real estate sales, purchases, and investment. Later, he was a political cartoonist for the same newspaper.
Bill entered college again at Salisbury University, a campus of the University of Maryland System, at the age of sixty-three with a double major in physics and philosophy. As a result of academic successes in his writing at SU, paired with his experience with a newspaper column and political cartoon publications, Bill pursued his life-long ambition to write in the fiction genres.
Always a devotee to travel, all languages, and experiencing other cultures, Bill has lived and traveled in Asia, traveled throughout Europe and in most U.S. states and Canada. He speaks, reads and writes Japanese, although not as fluently as he would wish, is a light airplane pilot, is currently studying Spanish, and is a member of Eastern Shore Writers Association and American Mensa®. He has also been published in Mensa® Bulletin, the organization's national monthly magazine.
On October 6, 2011, Bill's wife, Sharon, gave birth to their first child.